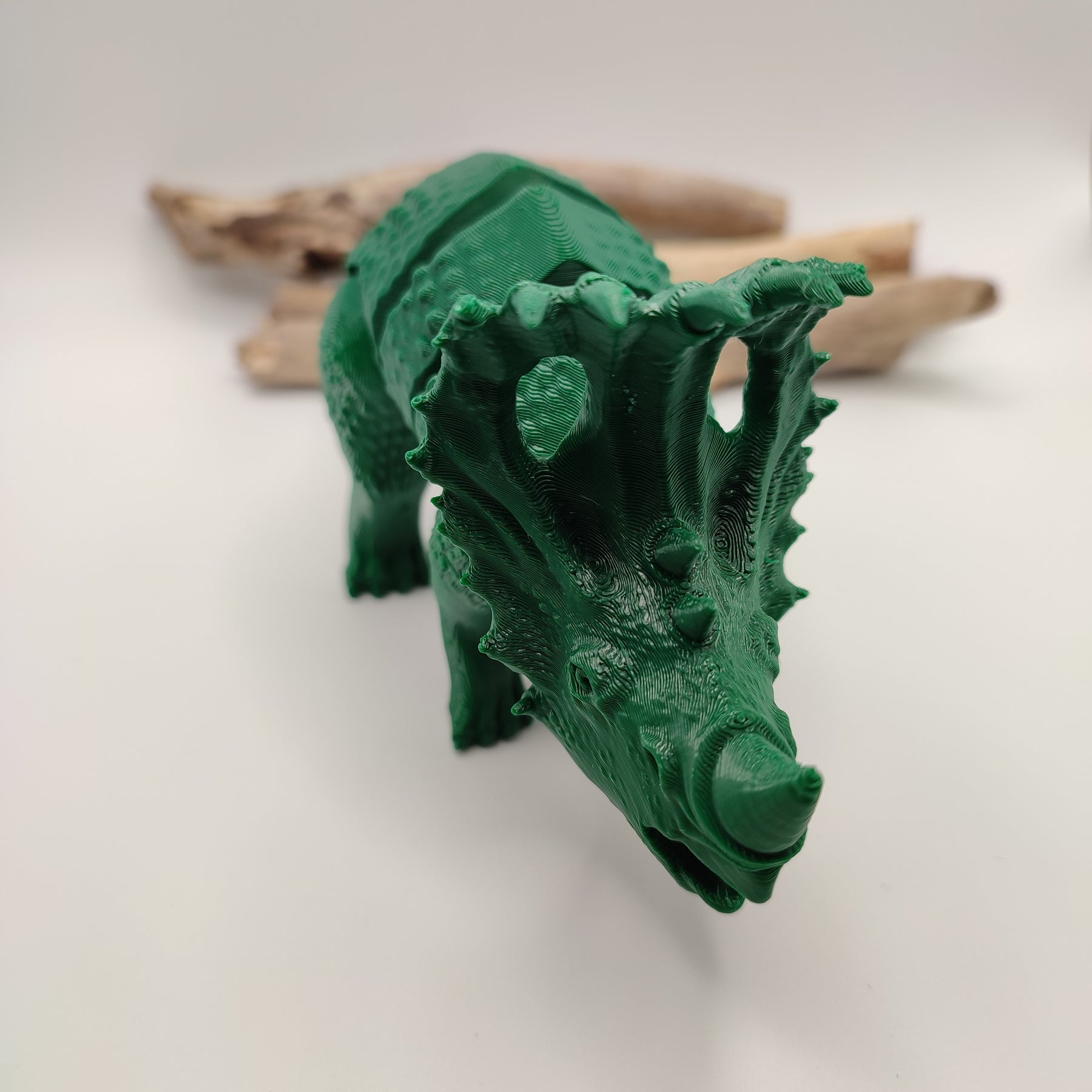 Sinoceratops
3D-printed using recyclable, plant-based materials. 30-day money-back guarantee.
Travel back to the Mesozoic era with my flexible 3D printed Sinoceratops toy! This unique plaything is printed in place.
Sinoceratops is known for its large frills and horns, and this toy accurately represents these defining features.
The flexible design of this Sinoceratops toy allows for imaginative play and easy handling, making it the perfect choice for dinosaur enthusiasts of all ages.
Don't miss out on the chance to bring the magic of the prehistoric world into your home today!
Size: 97 mm x 169 mm x 55 mm (17 cm).
As the founder of Boby Green Creations, I am passionate about creating realistic 3D models of animals using CAD programs. My fascination with animal evolution has driven me to use my skills to bring these models to life, capturing the intricate details and unique features of each species. My goal is to provide my customers with high-quality models that can be used for display or as educational toys for children.
I take pride in the level of realism I am able to achieve with each model, and I am constantly striving to improve my craft. With the help of my two children, I test each model by printing it and allowing them to play with it, ensuring that the end result is not only visually stunning, but also functional and enjoyable to use.
At Boby Green Creations, I am dedicated to creating unique and memorable pieces that will inspire and delight.
Each item is 3D printed on-demand specifically for you in the closest proximity to you anywhere in the US, Canada, UK and EU. For other locations please check with us.
• Production time: up to 3-5 business days for 3D printing, quality inspection, and packaging. In rare cases, re-printing may extend production time; we'll inform you if this occurs.
• Standard local shipping: delivery within 3-5 business days
• Need your item sooner? Choose Express Printing & Shipping at the check-out (up to to 3 days for 3D-printing + express shipping).
Money back guarantee: at Vulkaza we stand behind the quality of our products and strive to provide the best customer experience possible. If, for any reason, you're not completely satisfied with your purchase, we offer a 30-day money back guarantee.
Our principles
• On-demand printing - we prioritize sustainability by creating products only when needed, reducing overproduction and waste.
• Custom-crafted for you - every item is made individually with care and attention by skilled makers, ensuring exceptional quality.
• Produced nearby - we operate a global network of makers, striving to make e-commerce and consumption more environmentally friendly. Our goal is to offer products made in your city, and currently, 100% of items are made in your home country.
Do not use near open flames or in high temperature environments, as the product may deform or catch fire. Note that 3D printed products are not safe for use with food unless otherwise specified. Clean with cold water.
This product has no attachments.