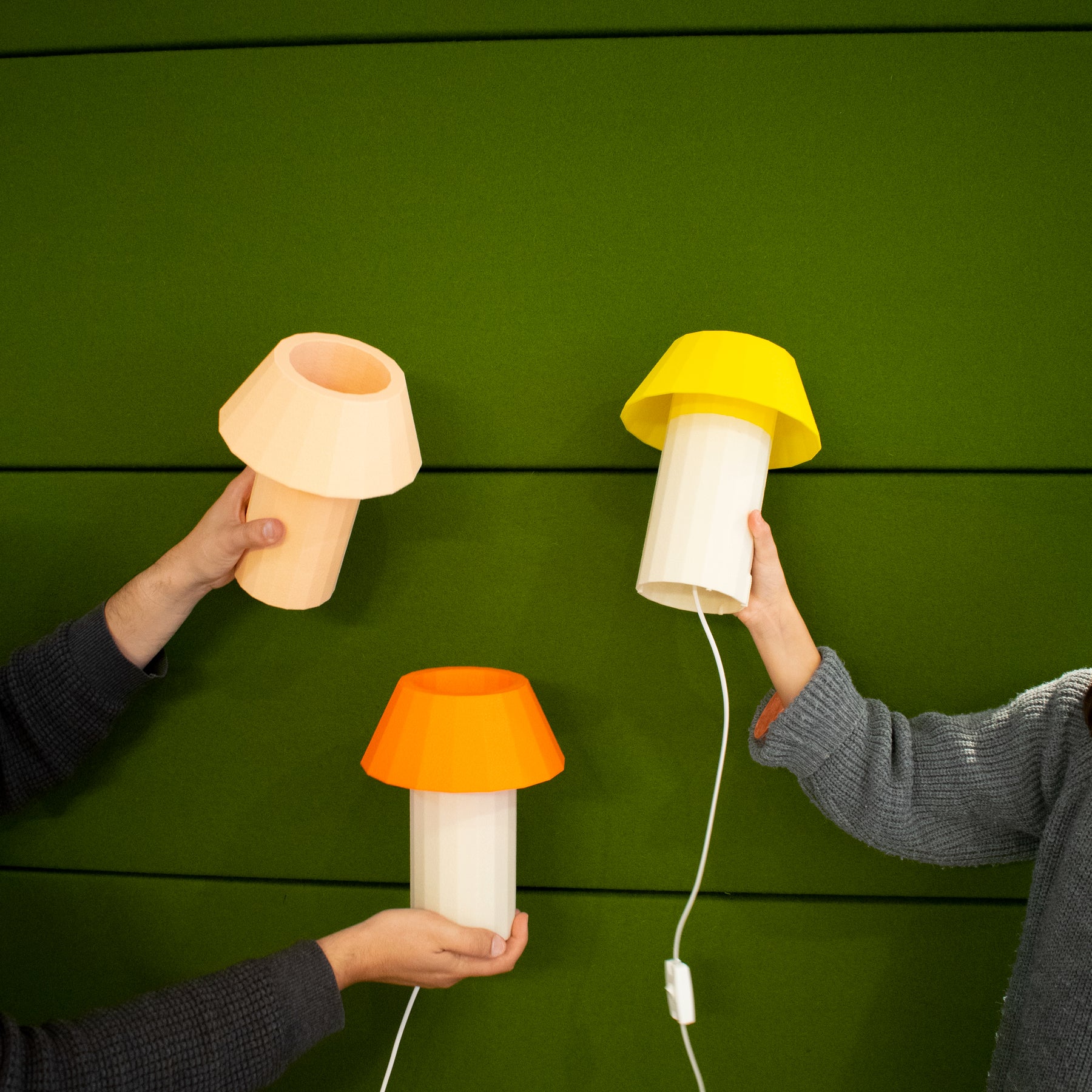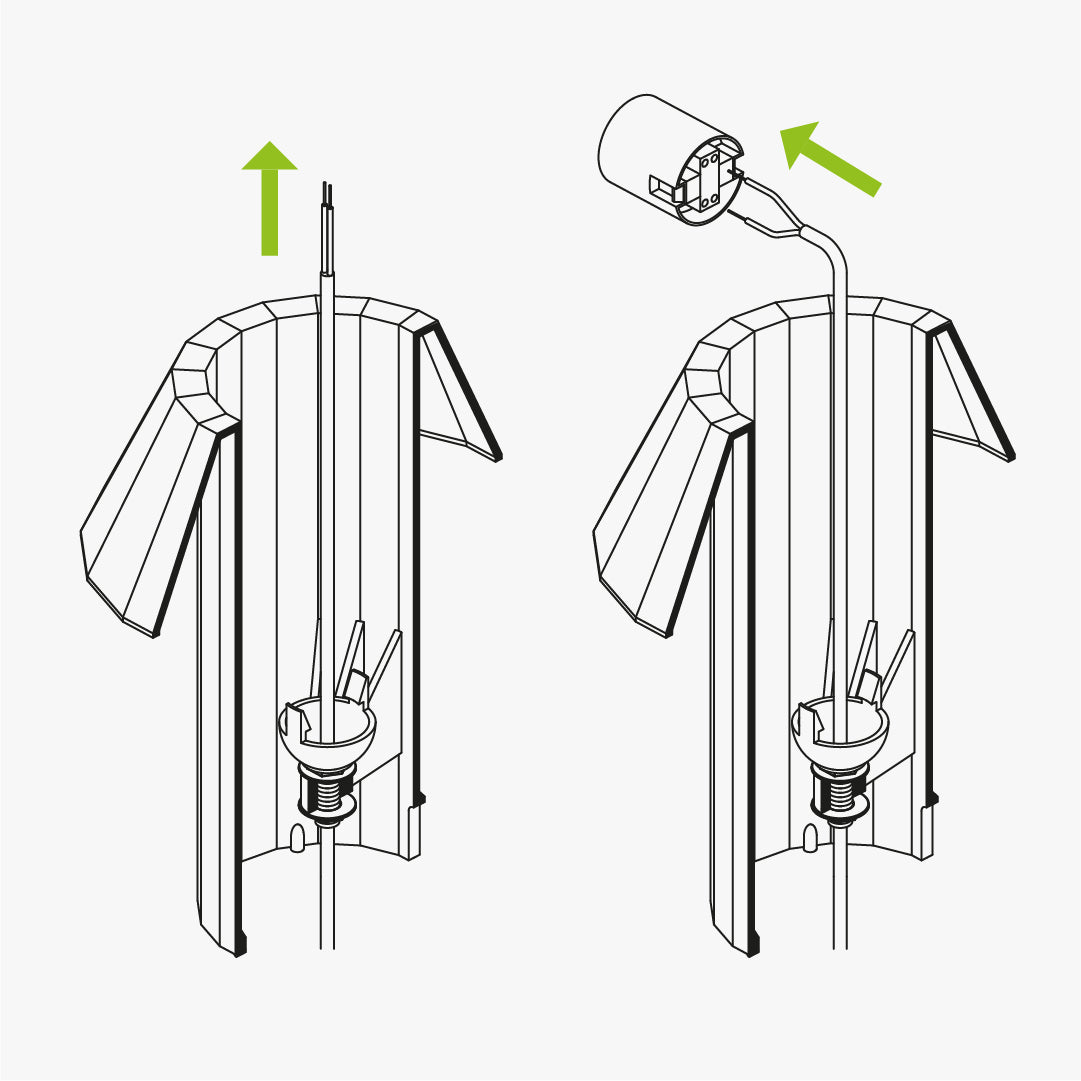 Pliego table light
3D-printed using recyclable, plant-based materials. 30-day money-back guarantee.
The idea behind the design was to achieve a lamp that is a single printed piece capable of housing all the necessary elements for its function. Thanks to the folds on its surface, different intensities of shadows are formed as it receives natural light. Taking into account the practicality, the easy assembly and the idea of a repairable product in case of having to change or customize any component. Its internal and external surfaces have a fine-grain finish that sets it apart from ordinary 3D-printed objects.
Dimension: 190mm diameter x 240mm high.
Project awarded by Fondo Nacional de las Artes 2022 (Arg.)
To assemble this luminaire you have to buy the following components at the lighting store closest to your home:
1) 7watt LED light bulb E27. Warm white

(1) Plastic Lamp holder for E27 light.

(1) 1.5M long power cord wire with switch.

(2) 3/8 Nut 14mm x 3mm. Galvanized.


Notes:
*This is a DIY project. You will receive the 3d printed part and you will have to get the detailed internal components.
*The characteristics of the parts required are in the description of each item. The links are for visual reference only. They are very standard pieces and you will surely get them at your local lighting store.
*Please see the assembly instructions to visualize the internal parts.
*Two-color combo options are not available at the moment. It can only be printed in one color.
Hello, we are Natusia and Ezequiel. Together we create familiaDDD (3D family) We are always in the continuous search to create pieces that give identity, design and warmth to your space. Based in Buenos Aires, Argentina.
Each item is 3D printed on-demand specifically for you in the closest proximity to you anywhere in the US, Canada, UK and EU. For other locations please check with us.
• Production time: up to 3-5 business days for 3D printing, quality inspection, and packaging. In rare cases, re-printing may extend production time; we'll inform you if this occurs.
• Standard local shipping: delivery within 3-5 business days
• Need your item sooner? Choose Express Printing & Shipping at the check-out (up to to 3 days for 3D-printing + express shipping).
Money back guarantee: at Vulkaza we stand behind the quality of our products and strive to provide the best customer experience possible. If, for any reason, you're not completely satisfied with your purchase, we offer a 30-day money back guarantee.
Our principles
• On-demand printing - we prioritize sustainability by creating products only when needed, reducing overproduction and waste.
• Custom-crafted for you - every item is made individually with care and attention by skilled makers, ensuring exceptional quality.
• Produced nearby - we operate a global network of makers, striving to make e-commerce and consumption more environmentally friendly. Our goal is to offer products made in your city, and currently, 100% of items are made in your home country.
Do not use near open flames or in high temperature environments, as the product may deform or catch fire. Note that 3D printed products are not safe for use with food unless otherwise specified. Clean with cold water. Suitable for interior spaces. LED Light bulb only.
This product has no attachments.