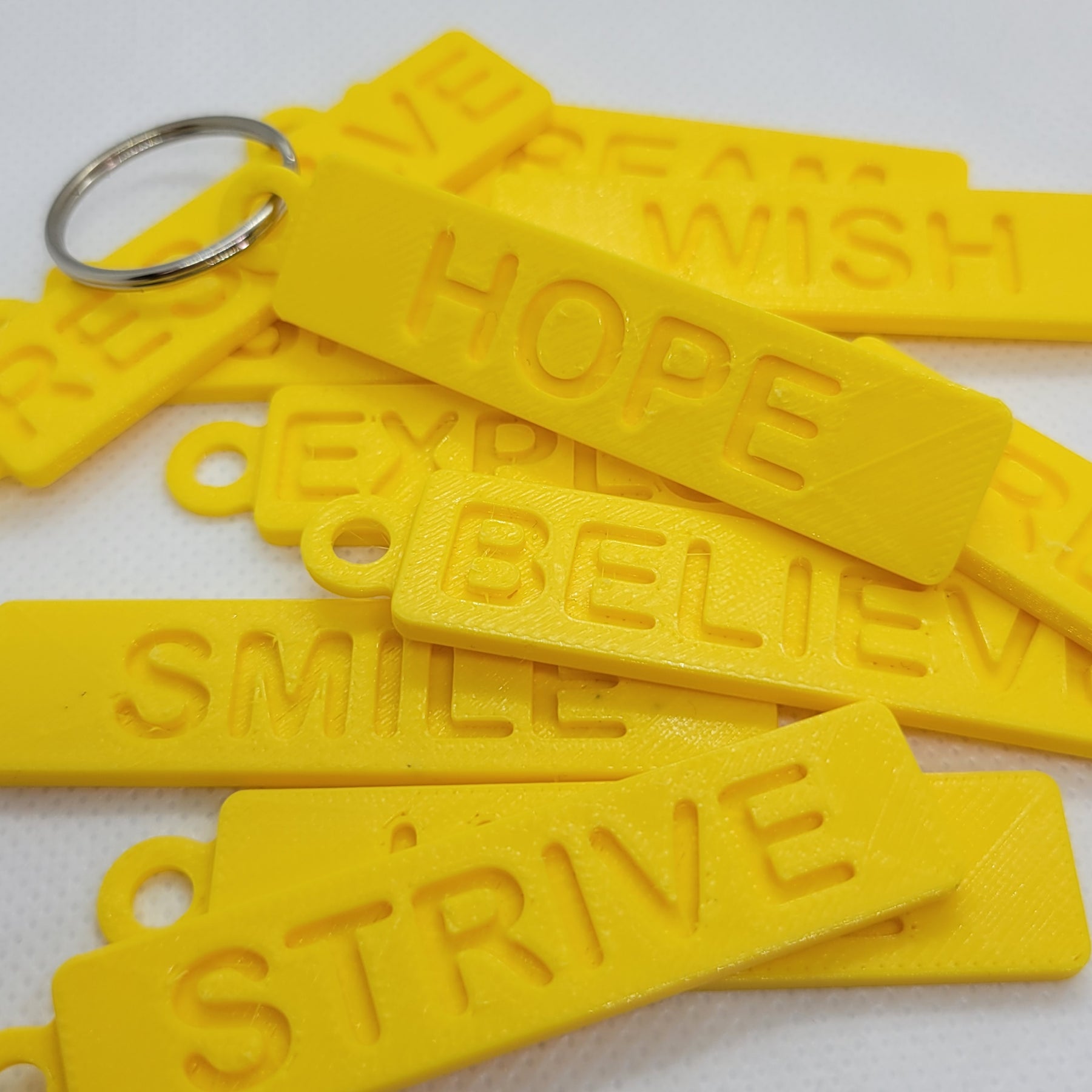 Yellow Ribbon Keychains
3D-printed using recyclable, plant-based materials. 30-day money-back guarantee.
Models are available for only the cost of shipping, however please see the "Donate" message below.
Note: the website limits to an order of 1 set per person. For multiple sets please contact hello@vulkaza.com. 
I made these keychains for my high school students during our annual Yellow Ribbon Week promoting positive mental health and suicide prevention awareness. While sharing the significance of the week both generally and personally, I had students randomly select their own keychain which they placed with gratitude on their keys, backpacks, pencil bags, and more.
Please read my article at 3DWithUs for more about this special project.
Words have Power
ASPIRE, BELIEVE, CREATE, DREAM, EXPLORE, HOPE, RESOLVE, SMILE, STRIVE, WISH. 
Your purchase through Vulkaza will include 10 keychain tags in yellow that are flat with engraved letters as shown in the photos here. (Metal keyrings are not included.) Additional variations are available to download for 3D printing through Cults3D or Printables.
Donate
Please consider making a contribution to the American Foundation for Suicide Prevention (or another organization) of $4.00 or whatever amount you feel appropriate and are comfortable offering.
Social Media Matching Donations
Each person that purchases the Yellow Ribbon Keychains through Vulkaza will be included in the total count of "posts" described below. 
My family plans to make a donation to AFSP this year and, to promote awareness through the 3D printing community, for each person who downloads, 3D prints, and posts a Yellow Ribbon Keychain photo to Twitter or Instagram using the hashtag #YellowRibbon3DPrint by December 1, 2022 we will donate an additional $2.00 for up to 100 individuals. 
Also, I'm pleased to share that the 3D printing company Printed Solid will match an additional $2.00 for each post up to 500 posts! Thank you, Printed Solid!
Joel Telling the 3D Printing Nerd has offered to match $2 x 500 as well. And LDO Motors and Alien3D are each doing the same! Thank you so much!
Vulkaza Customers: Please share photos of your purchase to help spread the word. Be sure to tag me @abbymath Twitter or @abbymath3d Instagram and @PrintedSolid and @Vulkaza and include the hashtag #YellowRibbon3DPrint. Posting is not required to be included in the count toward our goal.
3DWithUs is also contributing $100 to the cause. Thank you, 3DWithUs!
Give the keychains to your friends and loved ones!
---
Additional photos and STL files are available for download at Cults3D.
I am a high school math teacher and 3D printing hobbyist. I have been 3D printing since 2017 and enjoy making things for my classes and my own children and home in San Diego, California, USA. Learn more about me on HotMakes Episode 60! See my video on YouTube and my user story written and published by Simplify3D. I design with Mathematica, CorelDRAW, Fusion 360, and Tinkercad. I love my MakerGear M3-ID and my Palette 2S Pro. I have a Prusa MK3S as well. I started a 3D printing sub-site abbymath.com/3DPrinting, but it needs some updating.

Each item is 3D printed on-demand specifically for you in the closest proximity to you anywhere in the US, Canada, UK and EU. For other locations please check with us.
• Production time: up to 3-5 business days for 3D printing, quality inspection, and packaging. In rare cases, re-printing may extend production time; we'll inform you if this occurs.
• Standard local shipping: delivery within 3-5 business days
• Need your item sooner? Choose Express Printing & Shipping at the check-out (up to to 3 days for 3D-printing + express shipping).
Money back guarantee: at Vulkaza we stand behind the quality of our products and strive to provide the best customer experience possible. If, for any reason, you're not completely satisfied with your purchase, we offer a 30-day money back guarantee.
Our principles
• On-demand printing - we prioritize sustainability by creating products only when needed, reducing overproduction and waste.
• Custom-crafted for you - every item is made individually with care and attention by skilled makers, ensuring exceptional quality.
• Produced nearby - we operate a global network of makers, striving to make e-commerce and consumption more environmentally friendly. Our goal is to offer products made in your city, and currently, 100% of items are made in your home country.
Do not use near open flames or in high temperature environments, as the product may deform or catch fire.
Note that 3D printed products are not safe for use with food unless otherwise specified.
Clean with cold water.
This product has no attachments.