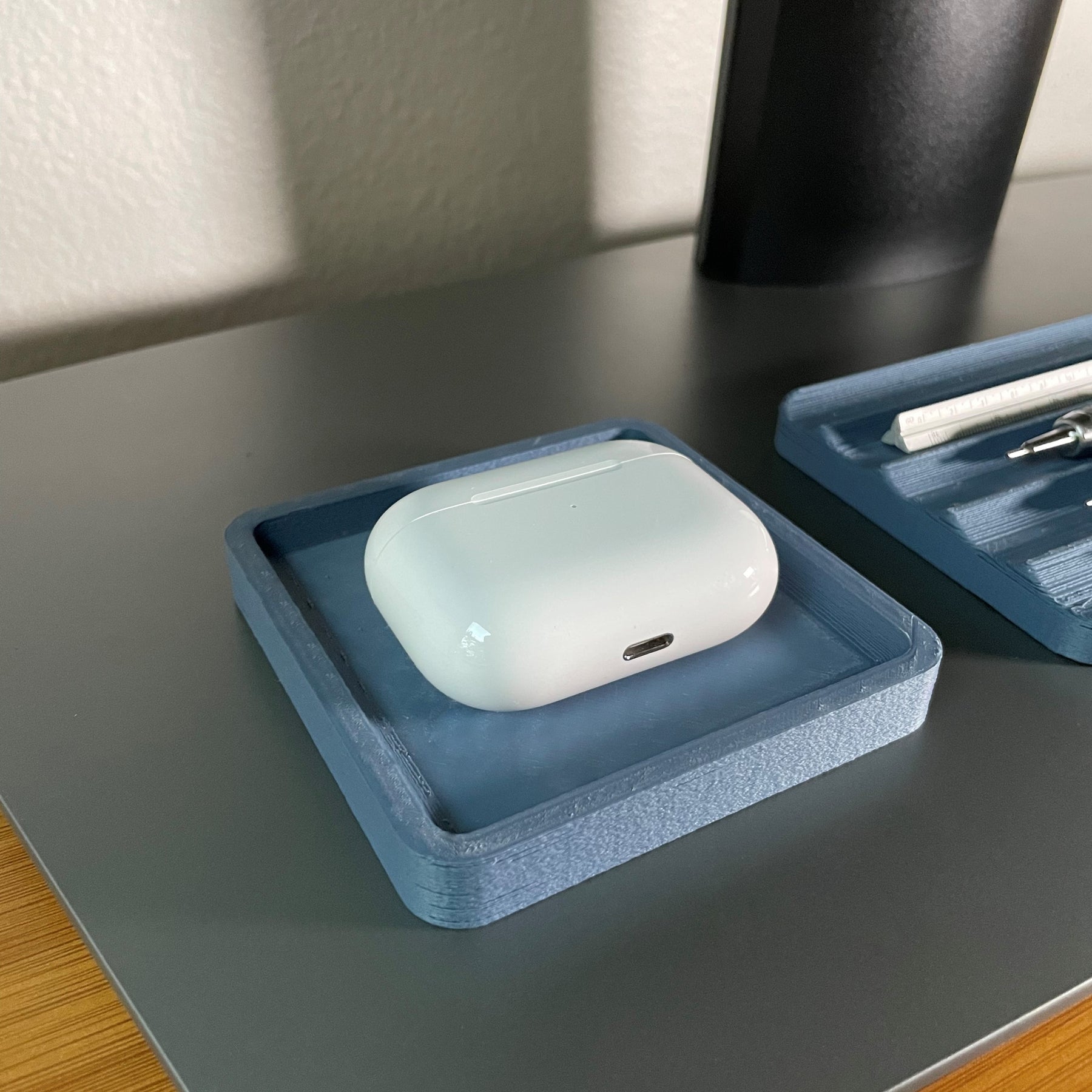 Catch All Organizer
3D-printed using recyclable, plant-based materials. 30-day money-back guarantee.
I recently did an assessment of my workstation and its efficiency. During which, I realized there were a few key items that I always found myself reaching for, but never had a dedicated space for them. So I set out to design a unique solution. Whether it's my Airpods, drafting pencils, or stickynote for making quick drawings. These designs offer a custom solution that will help to improve your workflow at home and work. Consisting of three independent organizers, the catch all, pen & tool, and the sticky note.
This design is the catch all, which can be used locate and organize the various items that might normally add clutter to your desk, such as watches or Airpods.
Size: 89mm x 89mm x 13mm
I'm a mechanical design engineer in my professional life, although the aspiration to design and create innovative and intelligent solutions extends far beyond my professional work and projects. In late 2020 I fully committed to leveraging my skillset for applications outside my day job.
I started by founding ATOM Engineering, a brand based around presenting my work to the world. With a mission to teach others about engineering, design, and coding by sharing the lessons and skills I've learned over the years, through my unique projects and education. Since starting ATOM Engineering I've found a passion for additive manufacturing and the ways it can help solve every day problems at a fraction of the cost all while being more sustainable than conventional manufacturing methods. 
Since finding this passion I've made it a point to help expose others to the wonders of additive manufacturing and show them the world of opportunities that lay within.
Each item is 3D printed on-demand specifically for you in the closest proximity to you anywhere in the US, Canada, UK and EU. For other locations please check with us.
• Production time: up to 3-5 business days for 3D printing, quality inspection, and packaging. In rare cases, re-printing may extend production time; we'll inform you if this occurs.
• Standard local shipping: delivery within 3-5 business days
• Need your item sooner? Choose Express Printing & Shipping at the check-out (up to to 3 days for 3D-printing + express shipping).
Money back guarantee: at Vulkaza we stand behind the quality of our products and strive to provide the best customer experience possible. If, for any reason, you're not completely satisfied with your purchase, we offer a 30-day money back guarantee.
Our principles
• On-demand printing - we prioritize sustainability by creating products only when needed, reducing overproduction and waste.
• Custom-crafted for you - every item is made individually with care and attention by skilled makers, ensuring exceptional quality.
• Produced nearby - we operate a global network of makers, striving to make e-commerce and consumption more environmentally friendly. Our goal is to offer products made in your city, and currently, 100% of items are made in your home country.
Do not use near open flames or in high temperature environments, as the product may deform or catch fire.
Note that 3D printed products are not safe for use with food unless otherwise specified.
Clean with cold water.
This product has no attachments.