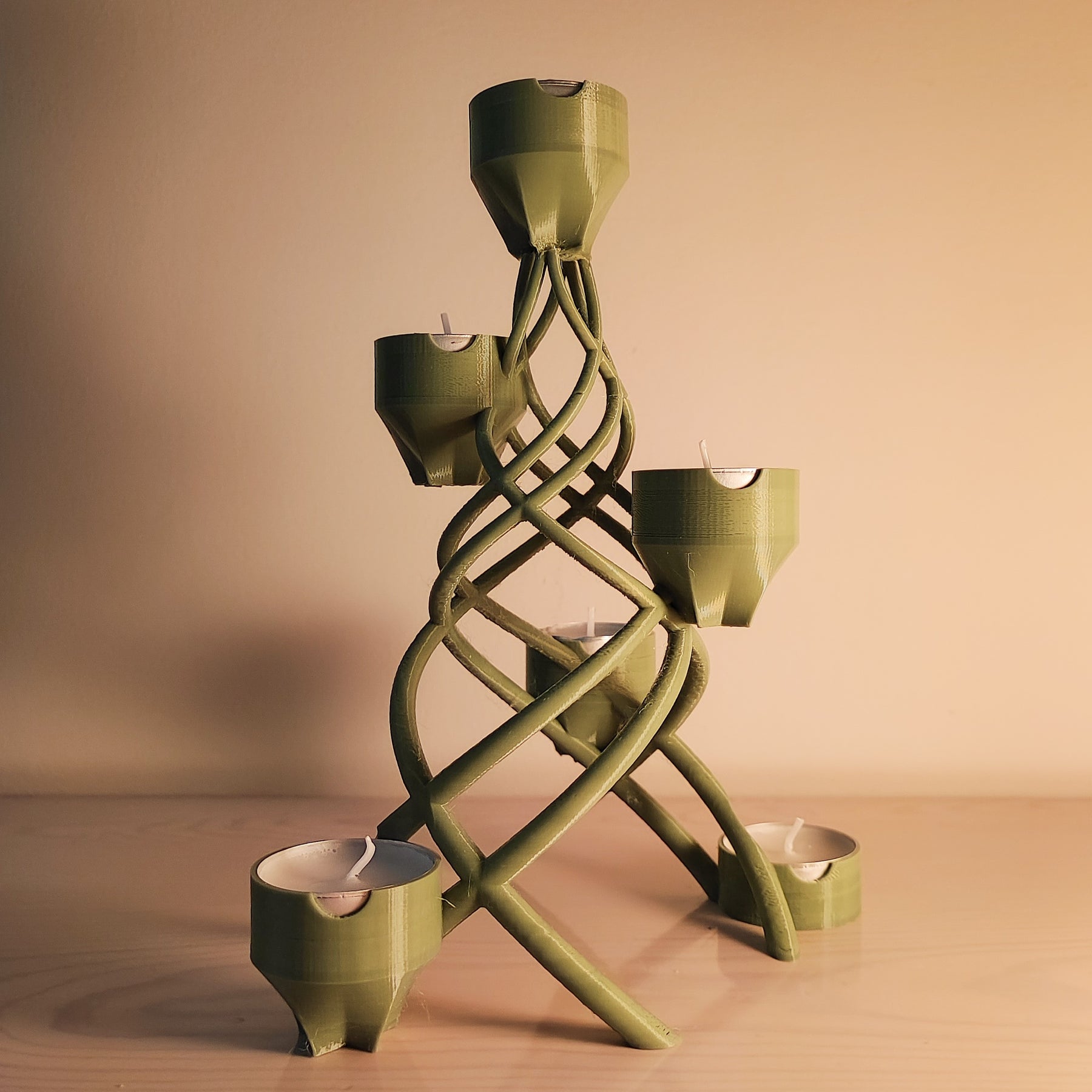 Candelarbol
3D-printed using recyclable, plant-based materials. 30-day money-back guarantee.
Candle holder in the shape of a Christmas tree.
Candelarbol (from candelabra and tree) is a minimalist design that grows in a spiral to form a Christmas tree illuminated by 6 candles.
Use this Christmas decoration to set the mood with its lights, as a centrepiece for your Christmas dinners or as a home decoration.
The candle holes are big enough to easily insert and remove candles with a diameter of 38 mm (typical candle size). LED or traditional candles can be used to illuminate the tree.
The height of the model is 230 mm so it is printable on almost any printer and uses only about 160 grams of plastic. Discover the star shape hidden underneath the candles!
Each item is 3D printed on-demand specifically for you in the closest proximity to you anywhere in the US, Canada, UK and EU. For other locations please check with us.
• Production time: up to 3-5 business days for 3D printing, quality inspection, and packaging. In rare cases, re-printing may extend production time; we'll inform you if this occurs.
• Standard local shipping: delivery within 3-5 business days
• Need your item sooner? Choose Express Printing & Shipping at the check-out (up to to 3 days for 3D-printing + express shipping).
Money back guarantee: at Vulkaza we stand behind the quality of our products and strive to provide the best customer experience possible. If, for any reason, you're not completely satisfied with your purchase, we offer a 30-day money back guarantee.
Our principles
• On-demand printing - we prioritize sustainability by creating products only when needed, reducing overproduction and waste.
• Custom-crafted for you - every item is made individually with care and attention by skilled makers, ensuring exceptional quality.
• Produced nearby - we operate a global network of makers, striving to make e-commerce and consumption more environmentally friendly. Our goal is to offer products made in your city, and currently, 100% of items are made in your home country.
Made of PLA, the candle holder is water and shock resistant. Light the candles carefully and do not bring the fire too close to the plastic.
This product has no attachments.