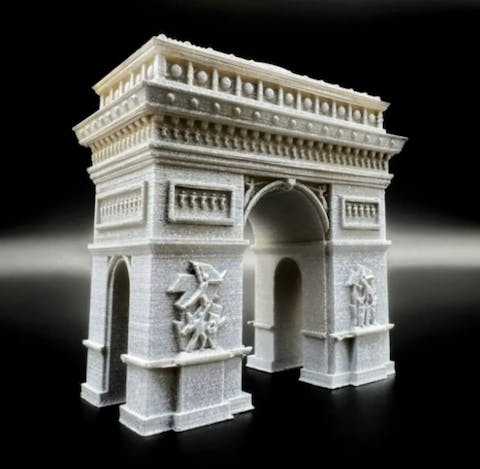 🇫🇷 Arc de Triomphe - Paris , France
3D-printed using recyclable, plant-based materials. 30-day money-back guarantee.
This detailed miniature reproduction of one of Paris' landmarks and symbols of France will make a fine decoration in any room or desk.
The people of France have a rich and proud history and today they still stand together in moments of hardship. This model is a celebration of the French people, their history and culture.
The Arc de Triomphe honors those who fought and died for France in the French Revolutionary and the Napoleonic Wars. The monument was designed by Jean Chalgrin in 1806 in Neoclassic style. It stands 50 meters (164 ft) in height, 45 m (148 ft) wide and 22 m (72 ft) deep (from Wikipedia).
This model was created by MiniWorld3D founder & lead 3D artist Dany Sánchez from scratch by hand and brain in parametric software to ensure printability, using photographs and blueprints to create a beautiful and stylized version of your favorite landmarks.
Be sure to follow MiniWorld3D:
instagram.com/miniworld3d
MiniWorld3D is a collective of 50+ artists creating the best library of 3D printable models of landmarks of the world!
The dimensions of the model is: (H x W x D): 52mm x 50mm x 27mm
Photos by @novarts3d , @freddoxeraco and MiniWorld3D.
MiniWorld3D aims to be the best and most complete library of 3D printable  digital models of landmarks and famous buildings from around the world.

All contributions in our library have been 3D modeled by more than 45 designers and 3D artists of 20 different nationalities, done from scratch through years of experience in 3D software (CAD).

Dany Sánchez founded MiniWorld3D in 2014 with the goals of spreading culture & education, preserving heritage digitally & democratizing access to it.
Each item is 3D printed on-demand specifically for you in the closest proximity to you anywhere in the US, Canada, UK and EU. For other locations please check with us.
• Production time: up to 3-5 business days for 3D printing, quality inspection, and packaging. In rare cases, re-printing may extend production time; we'll inform you if this occurs.
• Standard local shipping: delivery within 3-5 business days
• Need your item sooner? Choose Express Printing & Shipping at the check-out (up to to 3 days for 3D-printing + express shipping).
Money back guarantee: at Vulkaza we stand behind the quality of our products and strive to provide the best customer experience possible. If, for any reason, you're not completely satisfied with your purchase, we offer a 30-day money back guarantee.
Our principles
• On-demand printing - we prioritize sustainability by creating products only when needed, reducing overproduction and waste.
• Custom-crafted for you - every item is made individually with care and attention by skilled makers, ensuring exceptional quality.
• Produced nearby - we operate a global network of makers, striving to make e-commerce and consumption more environmentally friendly. Our goal is to offer products made in your city, and currently, 100% of items are made in your home country.
Avoid falls as the model may chip, crack or break. Do not clean with abrasive chemicals, use a duster or damp cloth only. Avoid high temperatures as the plastic may start to soften or warp.
This product has no attachments.